Get instant info on all your interests.
Sign up new clients with confidence.
Donot worry about existing conflicts anymore.
Convenient Conflict Search
Search across all your contacts.
Search across all your matters.
Search even your custom fields.
Seamlessly work across any technology or device.
Search on mobile, tablet or desktop.
Delegate to team members with Full access controls.
Search for any conflicts
Before signing up new clients
Conveniently search for any conflict of interest with your existing business before signing up new clients.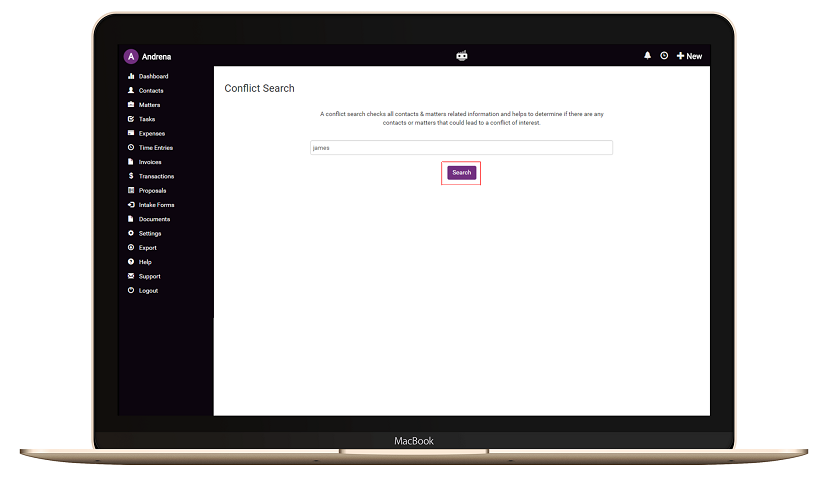 Everything you need to manage your law firm and help succeed your team
BUILD PERSONALIZED RELATIONSHIPS
Add custom fields for deeper tracking and more personalised care.
EFFICIENT TASK MANAGEMENT
Track tasks even without deadlines and get smart updates and agenda right in your mailbox.
With money finder never worry about loosing even a single dollar.
Get meaningful insights about your business to stay on top of it.
Never loose track of deliverables, what you owe and keep client happy.
Export all your data any time, any where.
FASTER BILLINGS & PAYMENTS
Share invoices with clients in no time. Get paid faster and keep your finances under control.
INTELLIGENT AUDIT FEATURES
Delegate entries with built in audit cntrols and without sharing your access.
Send updates, share invoices and proposals right from the App. Keep track of everything at single location.
Collaborate with your whole team and get real time updates and progress.
Maintain data confidentiality and security with different access levels to support various roles.
Work in real time with local or distributed teams and clients. Ensure success for all.
Manage your practice in Your currency, Your language and Your time zone. Its designed with You in mind.
Get started in no time and spend zero time on training. No learning curve and complex workflows to keep life simple.
Whether you are on the go or at office, manage your practice seamlessly with our iOS and Android apps.